Paraphraser Review: Helpful for Essay Writers?
Paraphrasing is one of the most essential and useful writing skills. Especially for essay writers who work to provide essay writing services to students, this skill can help them a lot.
With paraphrasing, essay writers can write engaging and unique essays that will help students get good marks or grades.
However, they might face difficulty in paraphrasing their essay manually. So, instead of doing it on their own, essay writers can use an online paraphrasing tool called Paraphraser.io. This tool can help essay writers in various ways.
So, in today's article, I'm going to talk about how Paraphraser can help essay writers write engaging essays that will help students get good grades.
Paraphraser: What Exactly is it?
Paraphraser is an online AI paraphrasing tool that utilizes highly advanced AI-powered algorithms on its backend.
These algorithms work to replace words with synonyms and restructure sentences in the given text in a way that doesn't change their original meaning.
Paraphraser.io is a free paraphrase tool that comes with six different modes, out of which three are accessible for free.
Each mode works differently and can help you optimize the essay as you want. Besides, in the free version, you can rephrase up to 600 words at a time, which is not bad at all if compared to other premium paraphrasing tools.
How "Paraphraser" Can Help Overcome Essay Writers' Problems?
Now, let's talk about what problems essay writers face while writing and how Paraphraser.io can help to overcome them.
Lack of New Ideas
An essay is all about explaining new ideas about the topic. This occurs when you are having trouble organizing your thoughts and don't know how to write. In simple words, you have understood the concept but failed to write it in a clear manner.
In such a case, Paraphraser.io can be an invaluable resource for you. It will help you think outside the box and develop new and fresh ideas for your essay.
For instance, if you paste text in the input box of this tool, it will rephrase it using different words. Not only that, but it can also rephrase the whole sentence in multiple versions while keeping the real meaning the same.
However, you might be wondering which one of its modes can help you give new ideas. So, for this, I have tried its free mode, but the "Fluency" mode is the right one for this. Let me show you why.
For this, I'm going to take a sample text, paste it into the tool, and see what output it has generated. The mode I'm using for this is "Fluency."

As you can see, this mode has provided us with multiple versions of the input text, and each of them explains the same point.
Enhance the Readability
One of the most common problem essay writers faces is they explain everything in the essay in a very confusing way.
This can create difficulty for readers to read and understand. Such essays contain complicated words, lengthy sentences, and long-form paragraphs.
But the essay should be the opposite of this. It should be readable in every way so that even a normal age person can understand it.
However, the real problem writers face is when they try to make the essay readable, the tone and flow get disturbed. When they change complicated words with easy synonyms, they don't fit right and disturb the actual meaning.
Similarly, when they break lengthy sentences, they don't get the output they expected.
In such a case, they can use Paraphraser to make their essay readable without even changing the real meaning. It will analyze the text, replace all the complicated words with easy synonyms, and break lengthy sentences into short pieces.
Let's make it clear with an example of how Paraphraser works to enhance readability. For this, the mode I'm using is its "Standard" because it works more effectively than others to make text readable.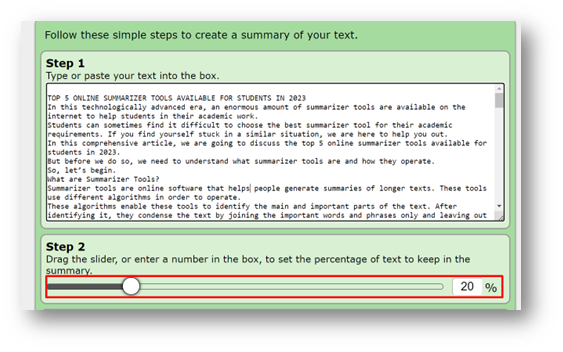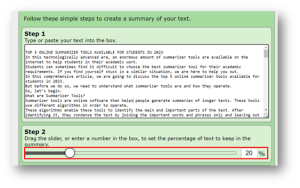 Paraphrase with Paraphraser: https://www.paraphraser.io/
In the above image, you can clearly see how the algorithms of Paraphraser have understood the text and replaced all complicated words with easy synonyms. Also, it has broken the lengthy sentences into short pieces.
Eliminate Plagiarism Traces
Plagiarism is the worst issue for both writers and students in their careers. A writer may lose their job due to plagiarism, and a student may get expelled from the academic institute due to it. Plagiarism occurs when a person copies someone else written work and uses it as their own without giving proper credit to the real author.
Also, this is the most common reason why students hire an essay writer to complete their tasks. They know that essay writers will write a full, unique, and plagiarism-free essay, which they can use for their academic purposes.
However, essay writers can also face plagiarism issues, but with the help of Paraphraser.io, they don't have to worry about it. As you know, this tool works to change words and restructure sentences. So, when it makes such changes in the text, it will no longer be considered plagiarized.
Now, let us show you which one of its modes can be useful for you to eliminate plagiarism from your essay. The mode is its "Word Changer." I have personally used this mode and pasted a bunch of plagiarized text in it, and the results were awesome.


You can clearly see that it has changed the majority of words in the text and made it plagiarism-free.
If you want to check if the essay text is plagiarism-free or not, then you can use its plagiarism checker by simply clicking on the button "Check Plag" given below the output box.
So, these were some issues that essay writers face while writing essays, and how Paraphraser.io can help to overcome them.
Other Tools of Paraphraser.io
Moving on, let's take a look at the other tools that can also help essay writers.
Plagiarism Checker: As mentioned above, the plagiarism checker of Paraphraser.io can be a helpful tool for finding the plagiarism traces in the essay text. You can also use this tool for free, but with some limitations.
Grammar Checker: Along with its Plagiarism Checker, it also provides an online Grammar Checker. With the help of this free tool, essay writers can easily correct all the grammatical errors in their essays and enhance their quality.
Text Summarizer: Another AI-powered online tool that can help writers in writing essays is its Text Summarizer. It can help to create a summary of a full essay, which they can use as a "Conclusion."
Pros & Cons of Paraphraser
Here are some pros and cons of the Paraphraser.io
| | |
| --- | --- |
| Pros | Cons |
| Free to start with a 600-word limit. | Ads on the screen. |
| Provide 6 different rephrasing modes. | The free version comes with a lot of restrictions. |
| Provide synonym suggestions feature. | |
| 24/7 chat support with their live agents. | |
| | |
| Available in 2 different languages | |
| No need to sign up or register as a free user | |
Pricing of Paraphraser.io
As I have already discussed above, Paraphraser is a freemium tool that provides a free and a premium version. The free version has various restrictions, whereas the premium version has no restrictions.
Multiple premium plans are available, and you can choose any of them according to your needs and budget. The plans are:
Basic Plans:
Weekly Package: $7/Weekly
Monthly Package: $20/Monthly
Yearly Package: $12.5/Monthly ($150 per year)
Enterprise Plans:
Weekly Package: $50/Weekly
Monthly Package: $125.50/Monthly
Yearly Package: $225/Yearly
These all are the pricing of Paraphraser.io.
Conclusion
So, this article was all about the review of Paraphraser.io and how it can help essay writers. It is a very powerful tool that can help in various ways to write a unique and engaging essay.
It helps to make the essay readable so that everyone can easily understand it. It helps to give new ideas and also helps essay writers avoid plagiarism and make it 100% unique.