Sample International Business Full Dissertation
Want to review our sample dissertation before placing an order. Here is a dissertation example that shows the type of quality of work you can expect from our academics.
How Luxury German Car Manufacturers and their UK Consumers are affected by European Directives on the Reduction of Carbon Dioxide Emissions
Abstracts
The study examines how the German car manufacturers and German cars' customers are affected by the European Directives to reduce the carbon dioxide emissions in vehicles.
In particular, the study aims to address the question that whether luxury German car manufacturers and their consumers are affected by European carbon dioxide reduction directives or not.
The researcher has selected the survey questionnaire as an instrument for data collection through which primary data has been collected. The sample size of the study was 31 respondents.
The data was analysed using charts and graphs for pictorial illustration of the responses. The results revealed that car labelling effectively tackles European Carbon Dioxide emission directives for the German car manufacturers.
The European Union car labelling directive can be effective from its objectivity to increase awareness related to the distance-specific fuel consumption and carbon emissions of the cars.
It can be recommended that the member states should be obliged with the implementation of the coloured label and graphic for complementing the information related to the CO2 emissions and fuel consumption.
Key Word: Directives, CO2 Emissions, German Car Manufacturers
CHAPTER ONE: INTRODUCTION
Contextual Background
This research project focuses on the study of Luxury German Car Manufactures (GCM's), their UK consumers, to see how they are influenced by European directives regarding reducing carbon dioxide (CO2) Emissions.
The contemporary world has shifted to electric vehicles (EVs), leading to reduced CO2 emissions. It has been quite evident in the automotive industry, where electric cars have now been rapidly prevailing. The literature and the findings of many other types of research have also professed the same notion.
According to Vaz et al. (2017, p.1), "the automotive industry is considered one of the most important industries for a country's economy and trade – it shapes the industry, the cities, communal and individual life."
It also shapes other industries, for example, the steel industry, where roughly 13% of total steel production (Appendix 1) is produced for the automotive industry (WorldSteel, n.d.).
Germany is Europe's number one automotive market in production and sales, accounting for around 30% of all passenger cars manufactured (GTAI, 2017). Due to this sector's importance and its impact on the environment, the environmental concerns cannot be overlooked or outweighed by the economic gains.
It can be seen from the recent pressures to reduce greenhouse gases (GHG's) due to their impact on the environment and eco-system. It can be assumed and is believed by most scientists today that Climate Change is due to the Greenhouse Effect (GHE) (Mamalis, Spentzas, and Mamali, 2013).
The Australian government describes the GHE as "a natural process that warms the Earth's Surface. Ceteris paribus, it can be assumed that climate change is mainly due to the GHG emissions, specifically CO2, in which the Car Industry contributes approximately 20% (GTAI, 2015).
Mamalis, Spentzas, and Mamali (2013) conducted a study that CO2 emission from vehicles is expected to increase over the years and affect climate adversity. Therefore, the topic under consideration is of vital importance.
Even though the UK is only responsible for around 2% of global CO2 emissions (King, 2007), Nicholas Stern (British Economist) argued that being a developed country, the UK must also have to play its part and contribute to reductions in total emissions.
According to the Stern Review (2006), the UK will need to achieve a 60 to 80% reduction in total emissions by 2050. Dalkmann and Brannigan (2007) said there are three ways to reduce greenhouse gas emissions from transport:
1. Avoid – Avoid travelling or avoid the use of motorized transport.
2. Shift – Shifting to more environmentally friendly modes such as public transport, cycling, or walking.
3. Improve – Improving vehicle and fuel technology to improve the environmental efficiency of each vehicle.
In the light of Cano-Kollmann et al. (2018), the long-term availability for crude oil and steady retrieval of the oil prices has been questioned by consumers. This study focused on the impact of Carbon Dioxide reductions because CO2 is by far the biggest contributor, such as 77% of global greenhouse gas emissions (IPCC, 2014).
According to Vaz et al. (2017), the resultant issuance of the legal requirement to reduce CO2 emissions has pressured Germany's automotive sector to bring more fuel-efficient cars and consider long-term strategies for modernisation in the luxury manufacturing automotive sector of Germany.
Research Question
Considering the above, the main aim for this research project is to research and understand how GCM's and their consumers are affected by European directives for the reduction of carbon emissions by asking the following questions:
Are Luxury German Car Manufactures and their Consumers affected by European Carbon Dioxide reduction directives?
How European directives on the reduction of Carbon Dioxide have impacted BMW & Porsche, and how does this affect their UK consumers?
Aims and Objectives:
Evaluate European CO2 directives and how they have evolved concerning the luxury German car industry.
To evaluate the market impact and the cost of the environmental policy with luxury GCMs and UK consumers.
To suggest strategies and policy implications for reducing CO2 emissions in the German Automotive Industry (GAI).
CHAPTER TWO: LITERATURE REVIEW
The Postulation of Luxury German Cars
What is a luxury?
According to the Oxford Dictionary, luxury is defined as "an inessential, desirable item that is expensive or difficult to obtain," however, Alonzo (2012) would conversely be argued that luxury has different meanings to different people is defined by our circumstances.
For example, during Hurricane Harvey's disaster in 2017, a local of the Houston metropolitan area would certainly have viewed luxuries differently, adding things most people would take for granted into their so-called luxury list.
For example, basic forms of transport like a working bus or tube service or even lighting, as Alonzo (2012) mentioned. It is almost impossible to set a price floor on what is deemed a luxury car, which correlates with what was said by Brian Smith (Lexus Marketing Vice President).
"The difference is not just price, Luxury has to do with the overall experience – the car, the dealer, reputation of the brand and the satisfaction of owning the car" (Cited in Healey et al., 2011).
The German luxury cars can be defined as those that offer superior engineering & design but also "somehow gives pleasure to its owner" (Loureiro et al., 2016, p.1) through differentiation and exclusivity BMW or Porsche.
German Automotive Industry
Germany is Europe's most powerful economy and is recognized worldwide for its superior automotive industry. In 2016 the German economy shipped $1.32 Trillion worth of goods to other countries, making it the third-largest exporting country (OEC, n.d.).
The automotive industry accounts for approximately 18% of Germany's exports ($244bn in 2016) (see appendix: trading and economics). It provided 808,491 jobs in 2016, an increase of 106,906 jobs since 2010 (Statista, 2017), which shows how important the car industry is in Germany and any impact to the industry would have serious consequences not only to profits, the economy but to real people.
It also plays a very important role on a larger European scale, where German cars account for 30% of all Europe's passenger cars (GTAI, n.d.). On a global scale, GCM's accounted for nearly 100 percent of executive and luxury cars (Diez, 2012)!
The GAI has a very oligopolistic market structure whereby it is dominated by three large companies: VW Group (VW, Porsche, Audi, Skoda, and FIAT), Daimler (Mercedes & SMART), and BMW (BMW & Mini).
The automotive industry is one of the most regulated industries in Europe, with approximately 80 EU directives and 70 international UNECE regulatory agreements (ACEA, n.d.), spanning safety, technology, and the environment. As it is unrealistic to talk about all the directives regarding lowering CO2 emissions, this research has professed the main European directives around this area.
European Directives to Reduce Carbon Dioxide Emissions
This section would focus on evaluating present government directives regarding lowering CO2 emissions and analyzing these on the manufacturer and consumers in the UK.
Directive 1999/94/EC: "The Car Labelling Directive."
As an attempt to help consumers choose more fuel-efficient and lower emission cars, the EC created a mandatory law for all EU members to "ensure that information relating to the fuel economy and CO2 emissions of new passenger cars offered for sale or lease in the community is made available to consumers" (EC, 1999), in the form of a label (Appendix CO2 Label), poster or display which is displayed near the car at the point of sale (EC, n.d.).
This directive was introduced in 1999 and was called 'Directive 1999/94/EC' (EC, 1999). Many theorists, including the European Commission themselves, have said that "fuel economy and environmental impact are generally no major factor in vehicle purchase" (Gärtner, 2005) which essentially conflicts with what this directive is designed for.
This demand-side policy has been adopted in different ways among different EU member states. However, the UK's most popular and adopted is absolute labelling metric that rates passenger vehicles according to their distance-specific fuel consumption and CO2 emissions, which is also known as the EU energy label format (EC, 1999) as seen in Appendix (CO2 label).
This metric includes an energy efficiency rating system, where all cars driven in the UK must be ranked within 6 energy efficiency classes from A to F (Gärtner, 2005). Gibson (2013) said, "manufacturers could easily manipulate car characteristics to achieve better ratings without improving CO2 performance", for example, increasing the weight of a vehicle in Germany.
Key author Teisl and Roe (1998), in addition to Estelami (1997), both say that when the price of a certain product is very similar, for example, a BMW x6 starting at £61,105 (BMW, 2018) and a Porsche Cayenne starting from £55,965 (Porsche, 2018).
The consumers then tend to rank marginal trade-offs, in which if manufacturers are showing their CO2 and fuel emission figures next to the car. It could be likely the purchase decision could effectively be down to something like a car CO2 label.
For this directive to be most effective, Tesil and Roe (1998) said that car manufacturers should standardize their car labels across the industry, which will allow consumers to find it "easier to understand and will encourage the consumers to buy cars with fewer emissions" (Gibson, 2013).
Consumers have always been wary of car manufacturers' claims saying, for example, their car can reach x miles per gallon in fuel or produces very low emissions through advertising to hopefully sell more cars.
The majority of German car brands "have since come under serious investigation by European regulators for alleged anti-competitive collusion" (Thomasson, 2017), which certainly impacts the consumer when deciding what car to purchase as it is not ethical owning a car brand that cheats figures.
As Chancellor Angela Merkel says, the German car industry must try and win back consumer confidence. With the existence of directive 1999/94/EC, consumers can now verify claims that they may have seen online or on an advert (Teisl and Roe, 1998).
In the light of Fickl and Raimund (n.d.), car labelling increases the awareness of consumers and increases fuel efficiency, and cut average CO2 emissions of new passenger cars. It could be disadvantageous for luxury car manufacturers because as luxury cars tended to have higher performance and increased weight, they often result in the worst fuel economy and higher CO2 emissions.
Therefore, if a consumer sees it in category F (Appendix CO2 Label), the manufacturer could lose interest in the car (Gärtner, 2005). As a result, D'haultfoeuille et al., 2011 explained that this directive results in car manufacturers spending more money on marketing to promote their new fuel-efficient cars. As you can expect, the cost of improving cars' efficiencies is huge, where approximately €17bn has been invested in the German automotive industry (GTAI, 2017).
In 2016, Haq and Weiss said that the car labelling directive's effectiveness depends on the amount and manner in which information is provided. Fichl and Raimund (n.d.) and Haq and Weiss (2016) agree that the car labels must be simple and comprehensive, as consumers will only remember core information.
To further improve the chances of allowing the consumer to catch core information, Waetcher et al. (2015) found that consumers judge the absolute energy consumption of appliances based on the colour graphics efficiency label rather than the numerical information provided.
This theory is also agreed on in other academic literature where D'Haultfoeuille et al. (2011, p.5) mentions that the colours on the labels "were deliberately chosen to influence consumers and signal them what a "good" purchase for the environment is." It can be tested by looking at Appendix CO2 Label.
The colours are the first thing that catches consumers' attention, and instantly associating the green colour with highly efficient and red as something that is not environmentally friendly.
A reoccurring point that has been raised in the majority of literature is that consumer awareness must be raised around fuel economy and environmental impacts (Teisl and Roe, 1998; Gärtner, 2005; Haq and Weiss, 2016; Fichl and Raimund, n.d.).
2.2.2 2001 – 2017: System of graduated Vehicle Excise Duty
It has been argued by Klier and Linn (2012) that vehicle taxes in the automotive industry can be an effective way to reduce carbon emissions. Vehicle Excise Duty (VED) is an annual tax car owners must pay for their vehicle ownership and is often referred to as 'car tax.'
In 2001, the Labour Government presented a way to 'green' VED, which was to primarily base the rate of tax on CO2 emissions for cars registered on or after 1st March 2001 (Butcher, 2017) in the form of graduated bands where cars that produce less CO2 emissions pay less VED.
The government hoped that this would encourage consumers to purchase more environmentally friendly cars (Butcher, 2017). In 2001, the government decided to place new cars in one of four bands. Three new bands came into play in 2002, 2003, and 2006 budget (Butcher, 2017).
VED has already had an impact on the sale of new cars whereby The Telegraph says sales in April 2017 were down19.8pc from the same month in 2016 (Dean, 2017), however positively, March 2017 had a record sale of cars where 560,000 new cars were registered (Dean, 2017), compared to 152,076 in April 2017 (smm, 2017).
This is because consumers would not have to pay the new tax laws starting 1st April, resulting in new car registrations in April, as you can see in Figure 1 below, which has declined for the first time in 6 years. However, Figure 1 represents the whole UK car industry, and the same correlation didn't seem to occur for German car manufacturers.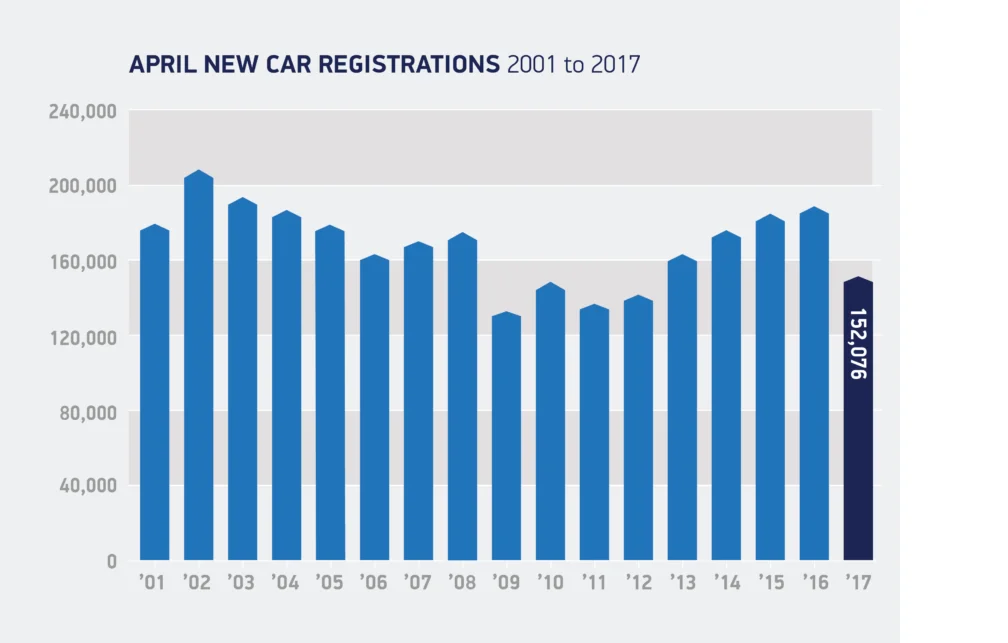 Figure 1; (Sourced from smmt.co.uk) Alfred Marshall (1961), the famous and influential British economist, defined 'price elasticity of demand as the responsiveness of consumers (demand) after a change in the price of a given product. The economist also professed that consumers with higher income levels, who buy high quality and more expensive products (Porsche/BMW), will be less sensitive i.e. 'price inelastic' to an increase in price (Marshall, 1961).
Figure 2 shows Porsche's car sales in the UK from January 2014 – November 2017, and it shows that the sales figures in April over the last few years haven't dropped close to as much as the industry average and have remained fairly similar over May and June 2017.
This correlation matches BMW, where sales in April 2017 at 11,277 (Statista, 2018) have increased compared to April 2016, where they were at 10,980 (Statista, 2018). The only similarity between the market average and German manufacturers was the instant spike in March 2017 sales.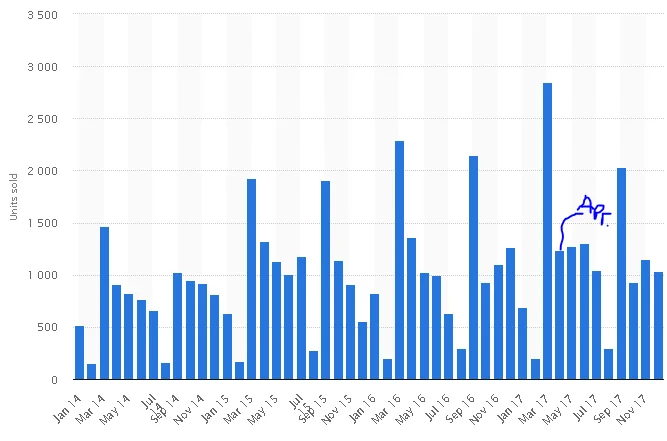 Figure 2; Sourced from statista.com
The government has tried to make this form of taxation a way to reduce CO2 emissions in cars (Butcher, 2017). However, in reality, and backed up by The Society of Motor Manufacturers and Traders (smmt) that this is just another way to bring in revenue for the government, which is currently standing at around £30 billion (including fuel duty) since 2007 (Smmt, 2015).
As Rastegar et al. (2012) mention that consumer confidence to purchase alternative fuel vehicles is low, it makes the potential consumer more price elastic (Marshall, 1961), which would mean that an increase in taxes as seen by up to £1,000 (Hull, 2017) could, ceteris paribus.
This results in consumers buying less luxury hybrid vehicles, meaning less environmentally friendly vehicles will be out on the road. This point draws a parallel to what was said in the smmt 'New Car Report 2017', where they say VED "offers no incentives to used car users to choose lower-emitting options," in which they specify this directive could "have a detrimental impact on some of the UK's premium, luxury and specialist car manufactures" (Smmt, 2017).
2.2.3 'Regulation (EC) No 443/2009 of the European Parliament and the Council of 23rd April 2009' – European CO2 Performance Standards KEY
The European Commission (EC) estimates that cars are responsible for around 12% of total European Union (EU) emissions of CO2. In 2009, the EC introduced mandatory CO2 standards for new passenger cars, where they set a 2015 target for all car manufacturers, on average, to score 130 g/km (grams of CO2 per Kilometre).
The Society of Motor Manufacturers and Traders (SMMT), who are a very reliable source surrounding the automotive industry, stated that in 2008 the average new car CO2 emissions in the UK were at 158.0 g/km, meaning car manufacturers on average would have to lower their CO2 emissions by 22% to hit the 2015 target.
Appendix 4 shows that as of 2015, figures seemed to have levelled out, leading to a big car manufacturer problem. In correlation to this directive, the European Commission has set a penalty for those manufacturers who exceed the targets. For example, in 2021, any car that does not achieve 95 g/km will be fined €95 for each gram over the target, and this will be multiplied for every car sold in 2020.
The literature has revealed that there have been two authors that seemed to appear quite often; Peter Wells and Paul Nieuwenhuis. Wells et al., 2010, identified four scenarios to achieve the 2021 target of 95 g/km.  Scenario 1– Conventional Vehicles (Focus on existing internal combustion engine cars, through hybrids, weight reduction, and improved aerodynamics)  Scenario 2 – Electric Vehicles  Scenario 3 – Vehicle Performance (Speed Limiters)  Scenario 4 – Market Shift
It is agreed by other theorists, such as Julia King (2007), that the best way forward for the nearer term is to keep focusing on scenario 1, including scenario 3, i.e., through improving the efficiencies of the vehicles that manufacturers are already in making. Once the manufacturers have succeeded in this, they should shift over to scenario 2 – Electric vehicles resulting in a market shift into the electric vehicle segment (Wells et al., 2010).
Regulation (EC) No 443/2009 has meant car manufacturers have had to invest substantial amounts of money into hybrid and electric vehicles' research and development (R & R&D) of hybrid and electric vehicles. Porsche recently announced spending €6 billion on electric mobility by 2020 (Zhang, 2018).
This investment amount was similar for BMW in 2017, where Rodgers (2018) says BMW spent €6 billion, and this year they will spend €7 billion. About Porsche's profit of 3.1 billion in 2017 (Porsche, 2018), this investment level is huge at nearly two years of profit.
By reducing the weight of a car by 10%, it is said to improve fuel economy by 6-8% (energy.gov, n.d.). However, Koppel et al. (2008) would argue that reducing the thickness of panels (doors, for example) and using thinner materials would have the negative effect of reducing the overall safety of the vehicle, which is agreed by theorists that safety is an important factor of the UK consumer purchase decision, ranking 4th in research carried out by iabuk (Koppel et al., 2008; iabuk, 2017).
Fetscherin and Toncar (2010) would say that by reducing the quality of a luxury car's main features, advanced safety. Consumers are likely to change the perception of GCM's having 'superior and additional safety'(Gadesmann and Kuhert, 2007), which will have a major impact on German cars' sales.
Following on with vehicle safety, in 2015, Kotler stated about his model of how consumers go through a buying decision in five stages before they purchase a product, as seen below:
During the information search stage of the process, assuming manufacturers follow Diaz and Sanz's (2009) suggestion, a consumer may find out that the brand they would have chosen is using fewer materials to build their car and that safety is reduced as a result. As R&D costs are so high, Renault Vice President, Patrick Peleta, professed that overall costs are likely to increase across the industry by around 10%, resulting in a fall in sales of approximately 15-20% (Gadesmann and Kuhnert, 2007).
Assuming these costs are passed on to the consumer, he estimated that for a €20,000 car, the price could increase by €3,650 per car on average and is expected to increase by more for luxury brands, but may not have much of an impact on the price inelastic consumer (Marshall, 1961).
Berners-Lee, "one of Britain's leading thinkers on sustainability and global warming" (Rodgers, 2014) and Clark (2010), said that consumers should stop buying new cars in the first place. They say it is more inefficient building cars, creating approximately 35 tonnes of CO2 for a luxury vehicle, as to driving one where APPENDIX BMW/PORSCHE CO2
Need Recognition
Information Research
Evaluation of Alternatives
Purchase Decision
Postpurchase Behaviour
showed that running a luxury vehicle will give off around 3 tonnes of CO2 per year (fuel economy, n.d.) based on a UK average of 8,000 miles per year. Robbins (2014) agrees that keeping a car could be the most ecologically sound option due to a car's hidden costs, such as the digging of fossil fuels and waste created.
Receive feedback on language, structure and layout
Professional editors proofread and edit your paper by focusing on:
Academic style
Vague sentences
Grammar
Style consistency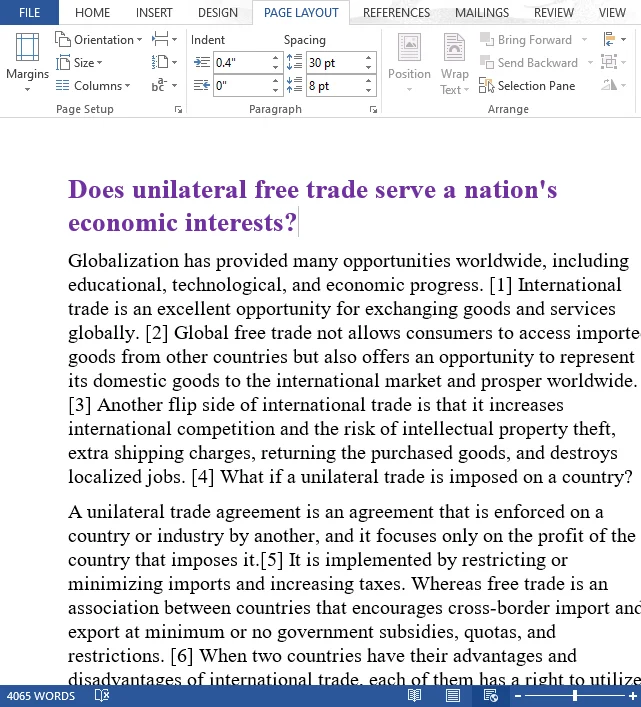 CHAPTER THREE: METHODOLOGY
Introduction
The Literature Review provided detailed descriptions of some of the most recognized European CO2 reduction directives. It explored how German manufacturers and consumers are affected by key academic and industry literature. This section shows how the data was collected to answer the research questions effectively (Saunders et al., 2015) and the reasons behind why such methods were chosen, ethical considerations, and the limitations behind this research project.
Research Method Rationale
Due to the deductive but also slightly shadowed nature of the study, where the main aim has been to explore how German luxury car manufacturers and UK consumers are affected by European Directives to reduce CO2 emission, a mixed-method research technique was used in the form of what Denzin (1978) would describe as triangulation. Denzin (1978) defined triangulation as "the combination of methodologies in the study of the same phenomenon."
The data collection method primarily consisted of using both primary and secondary research. In this research, the term "questionnaire" has been used as a general term to include all data collection methods in which each person was asked to respond to the same set of questions in a predetermined order (DeVaus, 2014).
However, the limitation of choosing this method was that there was not any follow up and the data presented the first time was final. Through a deductive approach, the secondary data has been triangulated and written as a literature review. This approach has been well suited for this research field, where it combined the proven data from academic literature with the research findings. It should also be noted that the questionnaire was self-completed (Oppenheim, 2000).
It was crucial to conduct the secondary research that the data gathered was carried out in an unbiased way. Still, it was also important that the survey has reached a particular respondent of the research area. It was vital that the respondents must have sufficient knowledge or experience of the German car market in the UK by being consumers of the market today; otherwise, the survey responses might not be credible or authentic. Therefore, the survey was developed primarily to avoid any "uninformed response" at all costs (Saunders and Lewis, 2009. and Thornhill, 2009).
The majority of this research was nomothetic (Holden and Lynch, 2004) due to the precise and accurate data presented. However, some authors would criticize this method for being inaccurate or realistic (Holden and Lynch, 2004). Secondary data was presented from a variety of key/ well-respected authors and sources to eliminate inaccuracy within this research.
For the primary research, sending the survey by email allowed a certain level of 'contamination control' that would not have been encountered should telephone or focus group interviews were conducted. Respondents to self-completed surveys are less likely to please (Dillman et al., 2014).
Anderson and Arsenault (2005) mention the importance of both reliability and validity and say that the more primary or secondary data linked to the research question or research objectives within the introduction, the more reliable the research paper will be. It has been the reason why this research paper was conducted objectively, to remain valid and reliable.
Research Sample
The purpose of creating a sample within this or any other research is to use a small target population with the "aim to learn about the entire population" (Vehovar et al., 2016, p 392). Within this research, a representative sample was selected, using what Sudman (1976) would describe as a minor subgroup sample, i.e., a sample of between 20-50 people. Within this primary research, the sample size was 31 people (Appendix XX Survey Time). The number of completed surveys was known, but the refusals have not been mentioned or considered (Kay and Johnson, 1999, p.326).
Barnett (2002) argued that using a small sample could be more beneficial and accurate than carrying out a large survey such as a census. Firstly, this selects a sample size specific to the research, meaning respondents are likely to be more knowledgeable in this field.
The target population selected for this research were either luxury German car owners or employees working for a German car company. Due to having established relationships within the luxury German car industry, most specifically in the North East of England with Porsche & Lloyds BMW, the sampling frame was established before any data was collected. In addition to approaching established connections working within the industry, the sample also included a homogenous purposive sample of chosen respondents as having a shared characteristic. Respondents selected for relevance are likely to produce the most valuable data (Denscombe, 2014).
Data Gathering Method
Primary Research – Survey Questionnaire
A survey can be defined as "a method of gathering information from a sample of individuals" (Scheuren, 2004, p.9.). It can be gathered in person, over the telephone, or even by mail, each having its pros and cons. Before the survey was created, the aims and objectives were established (Brace, 2018).
Due to "cost savings, convenience and flexibility" (Schillewaert et al., 1998, p.308), the primary data was captured through a closed web online survey (Brace, 2018). The survey was created on Survey Monkey (www.surveymonkey.com) and was sent to respondents in the form of an email with hyperlinks and a personal message from me via contacts in BMW & Porsche customers.
The email also addressed the importance of the research (van Selm and Janowski, 2006) to encourage participation and thanked the respondents for their time. In the words of Mann and Stewart (2000, p.73), "A stranger wanting to do academic research is sometimes seen as an unwelcome arbitrary intrusion.
Hence the reason the survey was sent directly from a known contact to the respondent. As already noted, it was a deliberate part of the strategy that would be sent the survey. It was vital to reach a specific target group distributed across a large geographic region (van Selm & Janowski, 2006), albeit under strict acknowledgement of data privacy and while Sheehan and McMillan (1999) considered assurance of respondent anonymity a key issue in the debate about the potential of online surveys. It is difficult to achieve full anonymity. As instructed, emails were sent on a person-to-person basis sharing no email addresses.
Survey questions were designed to ensure a high level of appropriateness, accuracy, and validity. "Tailoring the questionnaire to the interests and style of the target audience, knowing something about respondents' attitudes, perceptions, needs, decisions, behaviour, lifestyle, and demographics may have implications for how questionnaires are prepared" (van Selm & Janowski, 2006).
Many standards were applied to the questionnaire to improve its design and improve response rate. The survey was kept short and designed to take less than 8 minutes to complete. The average completion time for 10 questions was 6 minutes 14 seconds & according to Brace (2018), at least 50% of people say a survey is enjoyable at around 5 minutes long, compared to only 20% at 45 minutes (See Appendix Enjoyability).
The questions were varied in their design with Q1 – Q2 being general. Scales were used to gather attitudinal opinions on a range of criteria (Q.5, 6, 9, 10) with the aim to highlight important attributes and the less important ones (Brace, 2008) and factual responses questions using multi-choice (Q3,4,7).
Data Analysis
SurveyMonkey is an online tool that allows users to create their surveys using question format templates. It provides data collection, organising the results through tabulation and analysis of results in the form of easy to understand graphs and charts. Download all responses to a spreadsheet (Excel) allowed for further analysis through means and percentages.
The use of charts for quantitative data analysis was depicted in a clear and easy to read manner yielding the possibility of new, & not necessarily obvious at first sight, insights. Those of the researchers who have limited statistical background cannot attempt highly complex surveys involving advanced statistical techniques" (Bell and Waters, 2014, p.227; Disney, 2017) therefore it was decided statistical testing through regression analysis or Chi-squared was not carried out.
Survey Limitations
It is widely reported that developing a questionnaire is an efficient method of collecting responses. However, it is argued that it is far harder to produce a questionnaire that ensures it will collect the data you require and achieve your objectives than you think (Bell and Waters 2014). This approach has both its strengths and weaknesses. Still, it is noted that as a result of all respondents being anonymous, there was no opportunity for follow up as noted, nor fully understanding their "why".
Ethical Considerations
"Codes of ethics are intended to avoid poor practice, malpractice, and harm (non-maleficence) as well as to promote ethical practice. To avoid any mishap in the research process, it is necessary to evaluate risk (Saunders & Lewis 2009).
As this research was designed to be agreed upon and latterly accessed by the management of two prestigious car manufacturers it was necessary to obtain their permission to conduct the research.
The chance of success was enhanced when the researcher met the participants and organisational managers to develop rapport, demonstrate their competencies, and establish trust (Saunders and Lewis 2009). Access, in this case, was granted as the researcher was able to use existing contacts (Buchanan et al. 2013; Johnson 1975) in both firms.
Their knowledge of me meant that they trusted my intentions and their assurances regarding the data gathered. It lessened the risk for everyone.
Overall the risk of facing an ethical dilemma was low. Completion of the survey was positioned in a way that highlighted volunteered participation and confidentiality throughout. The questionnaire structure was designed to avoid any contact with the respondents and a deontological view was taken towards data collection.
Also, to help ensure an ethical approach was used throughout the research, the research followed principle steps such as Zhang's (2017) Eight Data Protection Principles (See Appendix Zhang).
Before conducting any research an ethics form (Appendix Ethics Form) was signed and created a participation information sheet (Appendix PIS) stating the purpose of this research and how the information would remain private. It was stated again at the start of the survey (Appendix Survey Start). Richard and Shwartz (2002) would have advised pseudonyms or initials when talking about respondents views.
This survey aimed to evaluate whether there had been any impact on consumer purchase behaviour by introducing CO2 directives in the car industry. Therefore, it concluded whether the directives had had the positive impact they had intended on introduction.
Need a Dissertation On a Similar Topic?
CHAPTER FOUR:  FINDINGS
Introduction
Within this section of the report, the findings from the online survey will be presented concerning, 'How is Luxury German Car Manufactures and their UK Consumers affected by European Carbon Dioxide reduction directives' and specifically whether there has been a direct correlation between purchase behaviour and the introduction of those directives. It has been important to understand the results presented below do not prove anything; however, they can be used to confirm or discard the academic literature presented in the literature review.
General Data Findings
As established in the methodology, the target audience for this survey was consumers who had purchased and owned a luxury German manufactured car and therefore had knowledge regarding the brand. It was imperative as knowledge regarding any details about the respondents were anonymous.
In total there were 33 respondents to the survey.
Gender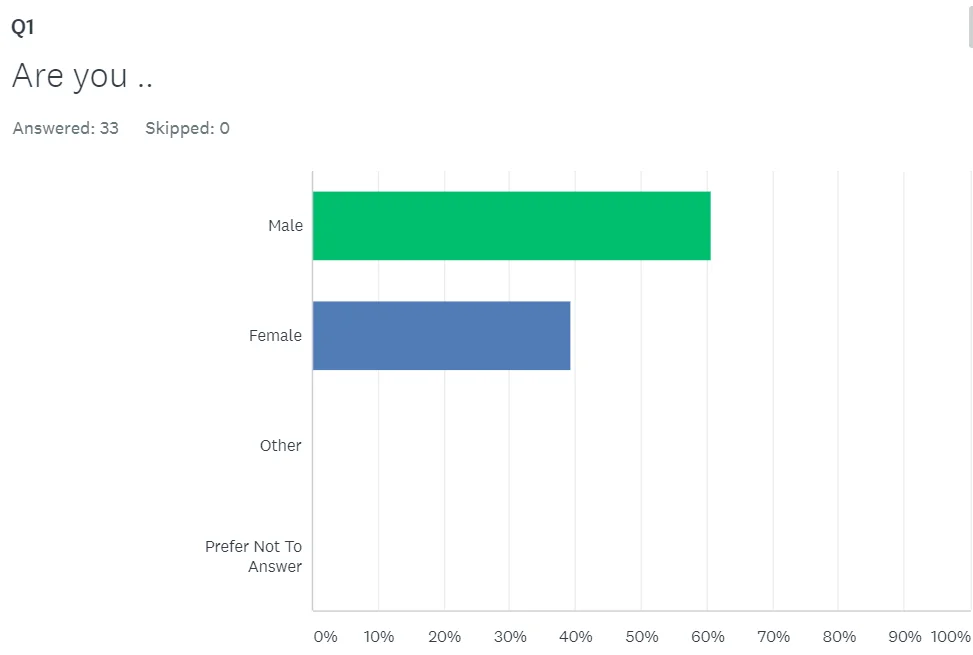 Figure 3 shows results to the first question which established who responded to the survey. 61% of the total (20/33 respondents) were male which is not unexpected and would correlate to the industry where car purchase tends to be more male-dominated. Mintel analysis (2011) confirms there is a stronger interest in German cars from men than women. They go on to say this is the case for premium brands, especially BMW.
Age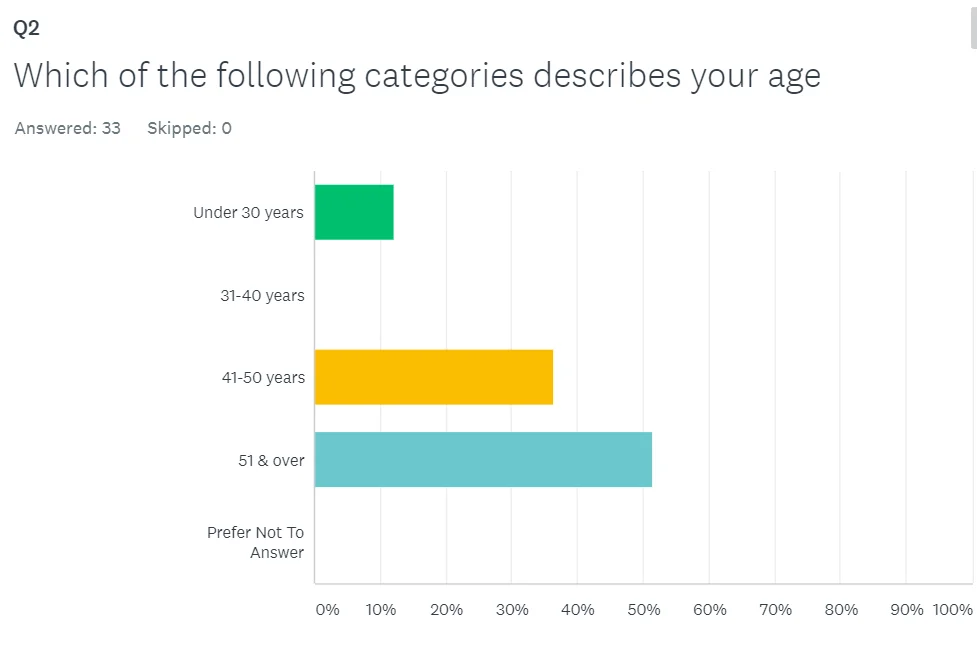 Figure 4 shows that 88% of respondents were aged 41 years & over (29/33). Those aged 51 years and older made up 52% (17/52) of the sample. Disposable income will play an influence here when thinking about the purchase of a luxury car.
Figure 5; Source: Gov.uk, 2016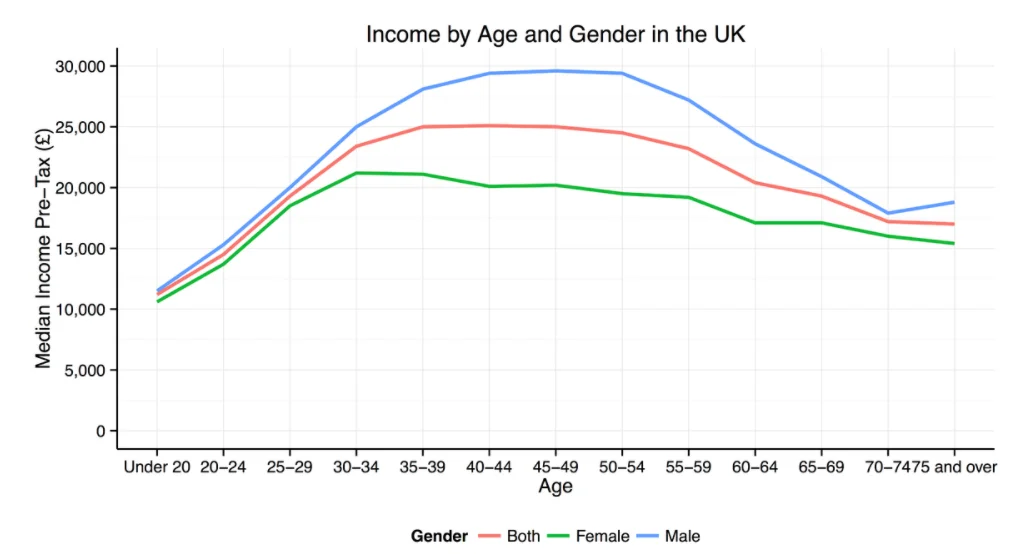 Purchase Price
It was anticipated that those who completed the survey would likely have a higher income. Mintel has reported that luxury brands such as BMW are more likely to be purchased new and suggests those who aspire to luxury brands do not consider a second-hand vehicle to reflect an aspirational image. This positively correlates with the target sample, whereby 52% of respondents have paid over £35,000 for a car and 64% over at least £26,000 (See Figure 5).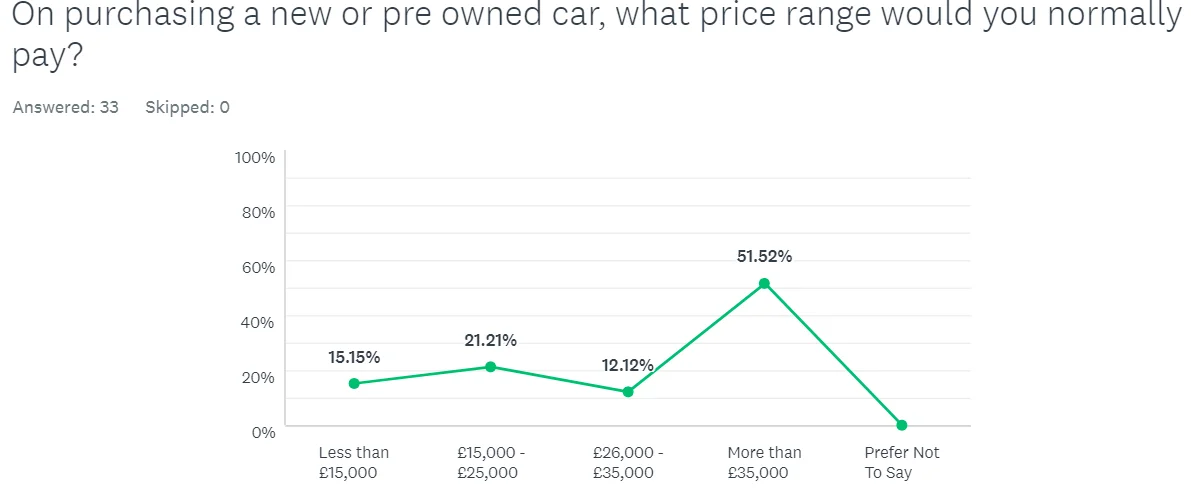 It could be said that those choosing the "under £26,000 option" (36% – 12/33) either:
 Owned a second-hand luxury car
 Mistakenly clicked the wrong option
Car Labelling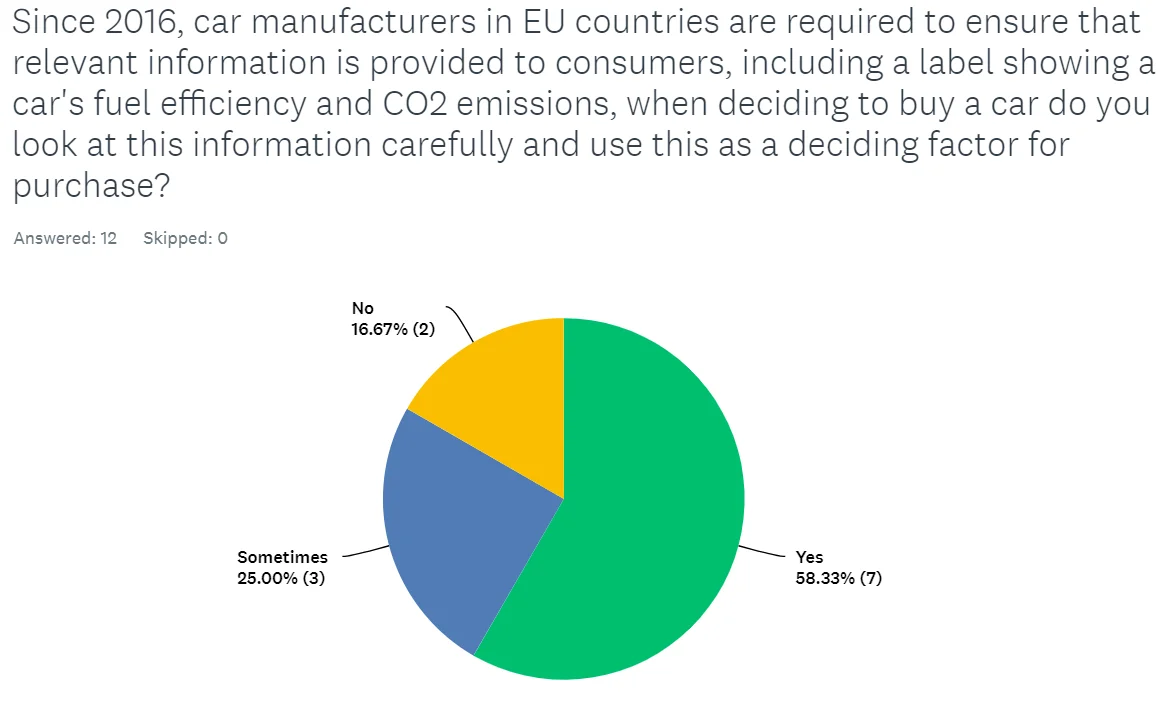 58% of respondents who purchased a car under £26,000 responded positively towards looking at the CO2 label provided by the car manufacturer. 25% of those look at the label only sometimes. Verbatim from the respondents received included the following:
"I have purchased only second-hand vehicles from my dealership and for that reason, I always try to find out more information about the performance and emissions of the car due to its age"
"I look at the CO2 label because it helps me determine what road tax I will pay"
"Fuel efficiency yes, but not CO2 emissions"
"Because of lower road tax"
Respondents who look at the CO2 label provided by the dealership when purchasing a car (second hand or new) appear to do this not because of the environmental benefits but as a method to save money on tax or fuel. This would indicate that the Vehicle Exercise Duty (VED) directive could be working by driving down the sales of higher emission cars.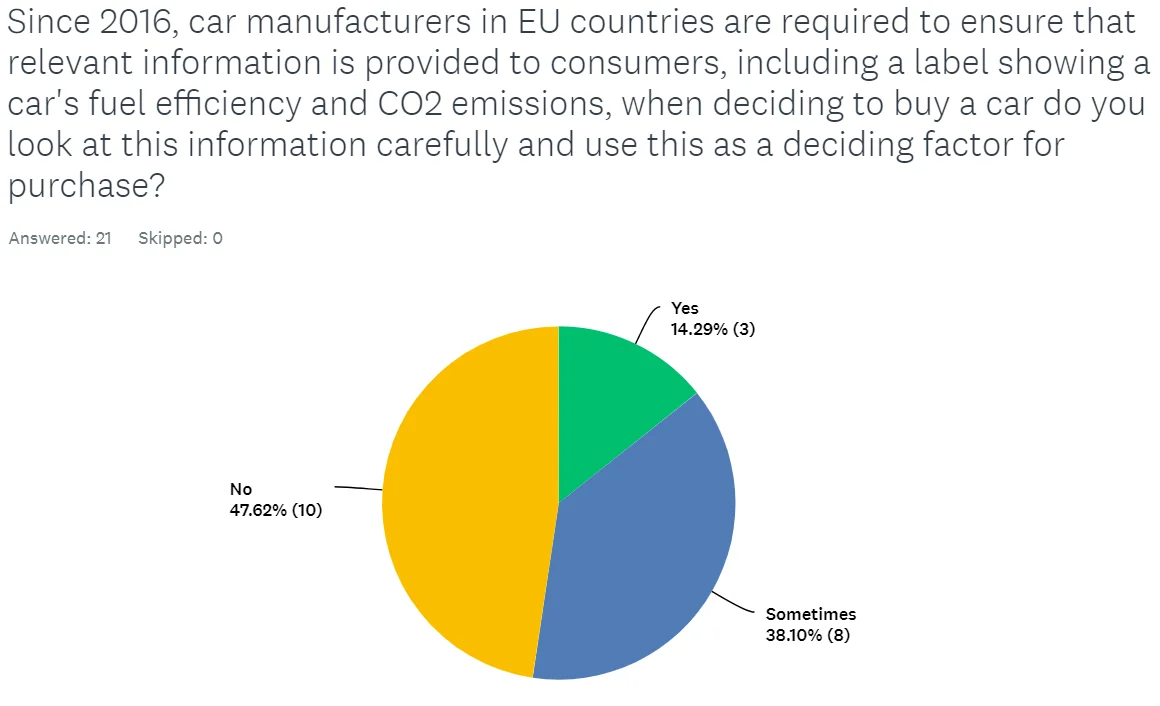 In figure 6b, as a stark contrast, the percentage of those looking at the CO2 emission data spending more than £26,000 reduces to only 14% with a further 38% saying they only look at this information "sometimes".
"I buy a car to enjoy it, not how I will save the planet"
"I look but this doesn't affect me"
There appears to be an obvious distinction regarding how much they were willing to spend on their car for those consumers of luxury branded cars. Those spending more than £26,000 tend to focus less on the CO2 emission data as an influencer of purchase.
Those that responded "sometimes" to the survey, look at the fuel economy & tax savings linked to a lower emission car however they do not understand the CO2 emissions figures overall. The verbatim to support this includes:
"Don't understand figures in the red to green label, if the tax isn't too high I don't mind (buying the car)"
"Fuel economy is certainly an influence, but don't know what all the emission figures mean, so I ignore them and it doesn't affect what I buy".
Importance of CO2 & Purchase Behaviour
Please rank these in order of importance when thinking about buying a new car (1 being the most important > 8 being the least important)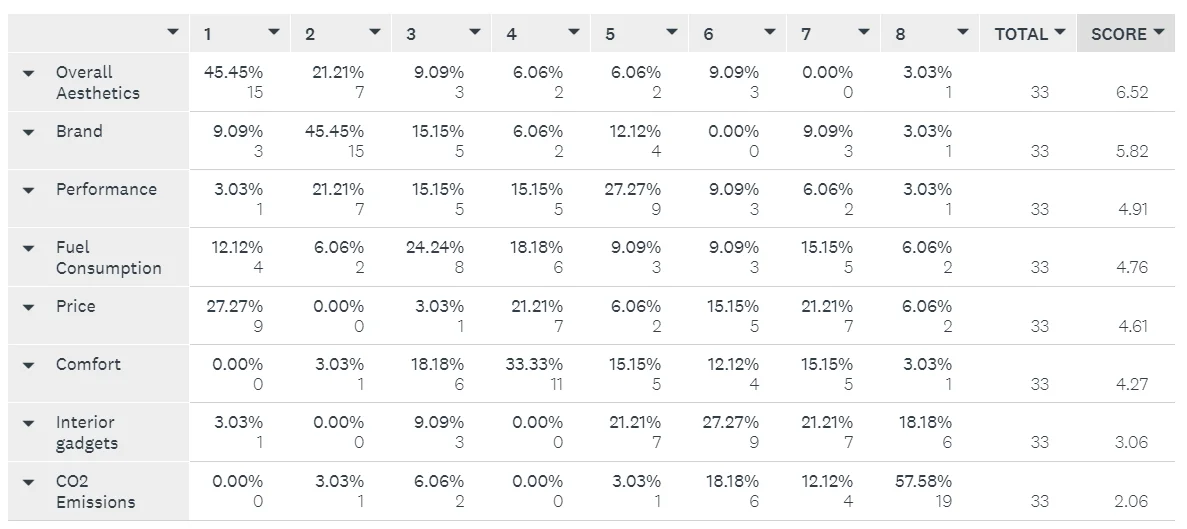 58% of respondents indicated that CO2 emissions ranked the least important criteria from the list when purchasing a new car and 88% ranked this criterion in the bottom three considerations. It would indicate that the directive imposed on consumers has not had a massive impact on their overall purchase behaviour – it would be expected that had it done so CO2 emission consideration would be further up the ranking.
Consumer Knowledge
Please rate how strongly you agree with these statements
63% of respondents either strongly disagreed or disagreed with the statement that they were aware of the CO2 emissions their car produced. However, interestingly 67% cared about what emissions were being produced by their vehicle but lacked the knowledge despite clear labelling & other CO2 directives being available to all consumers.
No consumers disagreed with the statement that they could help the environment by purchasing a car with lower CO2 emissions and this may correlate to the fact that 57% of respondents would choose to have a "diesel-free world". 82% said those car manufacturers need to do more to help the environment.
It would reflect the respondents' score above, which rated their current manufacturer as environmentally responsible by scoring only 41 / 100 (Figure X1). While it cannot be certainly professed why consumers scored their brand of the car so low in this area, there could be a correlation to the "VW diesel dupe scandal" where such a high profile case may have tarnished the whole car industry. Besides, car dealers do little today to influence the purchase of greener cars with lower emissions.
Is the future Green…?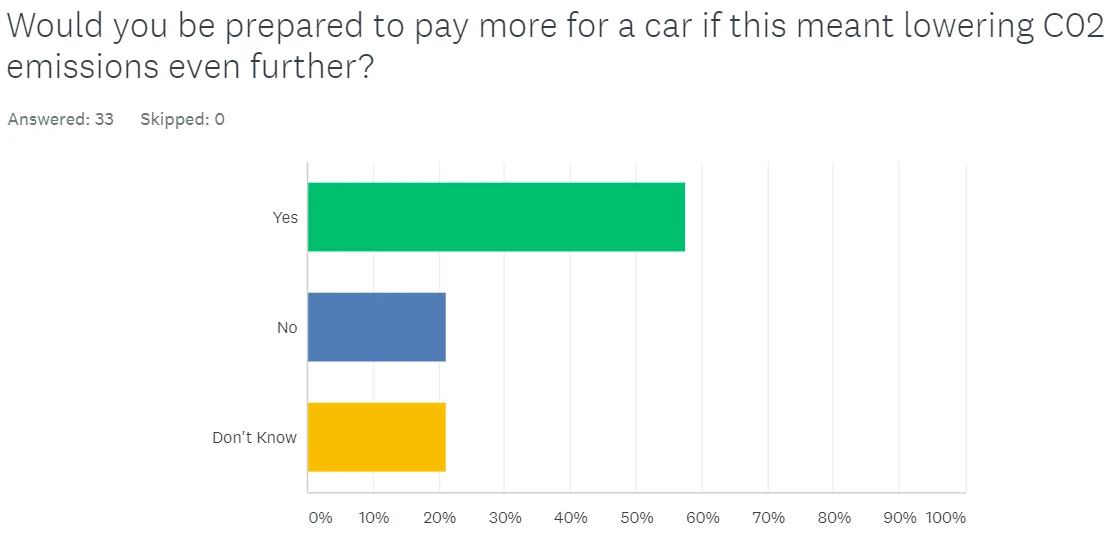 58% of respondents answered yes to this question however they were clear to point out that they would only leap going green should they see a positive trend in other people purchasing green cars. Making a "substantial" impact on the environment overall was a key influencer of future decision-making.
"It completely depends on how much more and how much it would save the planet. If it's substantially more and the vast majority of other people won't pay for it I doubt I will, cause it won't make a difference and cause I'm not made of money. If it's a rule that a car
needs to be on a certain percentage or if there is a government incentive involved etc, I'd be more inclined".
For those that responded no in the survey, their reasons for not wishing to purchase were mainly linked to the current price of a vehicle and there were no perceived improvements & benefits on saving more money e.g. tax.

Which of the following would make you more likely to buy a "green" environmentally friendly car (electric / hybrid) . tick all that  apply.

Nearly all of our respondents had not purchased an environmentally friendly car (97%) (Figure 12) To understand what would incentivize their purchase in the future the above question was asked (figure 13).
While this did not directly indicate how UK consumers of German car manufacturers are affected by CO2 directives, it has also not provided an insight into the direction in which the car manufacturers needed to focus in the future.
Investment in technology was the key, which would further induce the consumer choices and confidence to purchase.
CHAPTER FIVE: DISCUSSION
This section contains a discussion of the objectives, which explores how the researcher successfully achieved the objectives.
Objective 1: To evaluate European CO2 directives and how they have evolved about the luxury German car industry
The study's first objective is to evaluate the European CO2 directives and how they have evolved concerning the luxury German car industry.
The researcher successfully achieved the objective by reviewing different reports and theories about the European CO2 directives. The researcher's review suggested that the automotive industry is one of Europe's most competitive and synchronised industries, with approximately 80 EU directives and 70 international UNECE regulatory agreements (ACEA, n.d.).
Moreover, the main span is spread over the environment, safety, and technology. Furthermore, the review also reveals that certain directives have been proposed, evolving concerning the luxury German car industry.
According to the study conducted by Gibson (2013), it has been highlighted that the European car industry is mainly characterised by the evolution of the key innovations that have been extended from premium carmakers in Germany.
Also, the directives are comprised of the global success and innovation dominance for the premium segment that can be linked with the integrated approach of the research and development.
However, the study conducted by Waetcher et al., (2015), has proposed that in 2016, Haq and Weiss explained the effectiveness of the car labelling directives, mainly dependent on the amount and manner where the information is facilitated to the customers. However, for maximising the care label's effectiveness for the consumers, the theorists have argued about the directives which have been proposed for the reduction in carbon emissions.
Objective 2: To evaluate the market impact and the cost of the environmental policy about luxury GCM's and UK consumers
The second objective of the study is also theoretical and statistical.
The researcher has successfully achieved this through applying the different statistical tests and reviewing different theories that could positively evaluate the market impact and the cost of the environmental policy concerning luxury GCMs and the UK consumers. The survey results revealed that the main findings within car labelling were firstly related to the research about the people who buy expensive cars.
Within this case, the car's expensive buyer was found to be at 44% who purchase the car under the £26,000. However, the consumers also consider the market influences and the cost of the environmental policy concerning the German car manufacturers and the UK consumers as it derives from the thoughts and arguments that the consumers consider.
According to the study of Gärtner (2005), it has been revealed that Germany mainly exercises huge power within the European Union and can positively influence the agenda of the European Commission. However, the competition directorate has a strong reputation for fierce independence.
The review has focused on the implementation effectiveness and status of car labelling in the European Union. It disregards the further-reaching considerations related to the product labelling's limitations within the environmental policy tool. It further questions whether the efficiency improvements are considered effective measures for decreasing the economy-wide use of energy and CO2 emissions.
Compared with the fiscal measures, for instance, increasing the fuel taxes and car labelling can be less effective for reducing CO2 emissions. However, the increased efficiency can lower the cost of driving the car, resulting in intensified usage of cars and fuel-consuming activities in the economy.
Despite these drawbacks, labelling can merit as the tool of information that enables the consumers' informed choices and thus the competition in the market is levelled playing field.
CHAPTER SIX: CONCLUSION AND POLICY RECOMMENDATIONS
Based on the assessment, several areas identified where the European Union car labelling directive can be effective from its objectivity to increase awareness related to the distance-specific consumption of fuel and the carbon emissions of the cars.
However, it can be recommended that the member states be obliged to implement the coloured label and graphic for complementing the information related to the CO2 emissions and fuel consumption.
In this context, the feasibility should be extended for car labelling to second-hand cars. One standardised label design can be implemented and introduced for mirroring the European Union's energy label.
In addition to the above statement, the graphic label's dimensions along with the font size should be increased where the information is displayed.
For the policy implications, a pre-defined schedule to redefine labelling for differentiating vehicles that emit between zero and 100 g of Carbon emission should be implemented by the government. In doing so, it would accommodate the novel power training technologies for car labelling.
Moreover, if the vehicle utilities are considered with the labelling metrics, then the utility's actual parameter can be chosen with care for avoiding perverse incentives with warranting additional analysis.
For clean transportation, grid operators, and utilities, the carmakers have to corporate with making zero-emission pathways a reality through benefitting from all stakeholders.
The European carmakers with a particular focus on the German Carmakers have a strong global success in which the innovation can dominate in the premium segment. It can be linked to the research and development and rigorous planning for minimising carbon emissions.
Frequently Asked Questions
The European Directives have implemented measures such as promoting renewable energy, improving energy efficiency, setting emission reduction targets, and implementing carbon pricing to reduce Carbon Dioxide emissions.