Sample Masters Public Law Sociology Editing & Improvement
Here is a sample that showcases why we are one of the world's leading academic writing firms. This assignment was created by one of our expert academic writers and demonstrated the highest academic quality. Place your order today to achieve academic greatness.
CRITICAL ANALYSIS PAPER
Part II – Newspaper Article
Economic and social pillars within society tend to effect behavioural change. About a
social class, people classified as upper class demonstrate a longer lifespan.
This is unlike in those with low income earning whose confidence has taken a low profile. They seem to be lonely and in this regard tend not to prioritise living a healthy lifestyle.
The rise in death cases has been compounded with people's disregard for conducting regular physical activities. Waking up as early as 5 am to jog may prove to be the most challenging task for most people.
Instead of incorporating physical activities into daily deeds, many seems to be arrogant. It highlights how imminent the issue of physical inactivity has become and how intense the repercussions of the same can be for the global population. Also, the rate of physical inactivity is seen to be on an upward trajectory.
According to most of the researchers, the global population is under a threat of being massively reduced due to an increased possibility of diseases occurring in the future.
Piece by piece, social and economic behaviour explores the dynamics of an inactive lifestyle characterised in almost every part of the world—sedentary lifestyle cuts across age factors and gender.
Unhealthy lifestyle has now become a global phenomenon, and with this, people are on a reality check. This is concerning promoting wellness and healthiness to society.
There is a need for people to start living a healthy lifestyle by conducting regular excuses.
More medical researchers and clinical trials have asserted that PA does act as a perfect
counteraction for diseases. There is also a need for the body to be fit.
In reality, seeking pharmacological intervention proves an expensive ordeal. Complications such as diabetes mellitus type 2 emanating from an individual disregarding healthy lifestyle have been likened to an investment of no return.
This implies that time wastage and purchasing of expensive drugs are all that defines a person's life. In the wake of conducting regular exercise comes the promotion of healthiness and wellness to society.
Participating in Zumba dance, for instance, is a major therapy or mental illness. Also, it eliminates a likelihood for an inquisition of depression and anxiety. In other words, PA relaxes the body and the mind.
In awareness, modern-day nursing needs to incorporate evidence-based approaches to enhance the best therapeutic indication in the population.
To insert the concept of motivation, self-confidence, and awareness, professional nurses should be on the forefront to strategise on coming up with the best patient-education tool.
The 10minutes consultation tool, for instance, will motivate people, giving an insight into the benefits that can be accrued upon conducting a regular physical exercise.
Patient-centred interventions are usually characterised by different health bodies and organisations such as World Health Organizations and the United Nations partner.
Incorporation of social intelligence has been seen to aggravate matters relating to the betterment of healthcare. To promote positive health outcomes, a change begins within oneself.
Promoting healthiness to the society is concerned, PA behaviours act as a determinant in the fight against potential multiple health-related complications.
There is an urge to prioritise Public health knowledge since it is an efficient way of positively changing people's perception and opinions. With that, it helps to motivate the members of the society and adapt to healthy the new healthy lifestyle instead of the sedentary and idle lifestyle.
For the public health knowledge to become effective and result-oriented, it needs to cut across geographical boundaries.
In simple terms, from a national to a globalised point of view, both knowledge of public health and public health initiatives has to become imminent. It should be a consistent aspect, and this is where behaviours chips in.
To enhance the acquisition of maximisation of positive results, many models and theories relating to sociology and behaviour need to be adopted. Specification of an intervention highlights the need to embrace PA.
Specifications alone do not guarantee positive results. However, the theories and models provide theoretical frameworks which a person can easily relate to. The public health service management systems mostly emphasise this. IntegratedBehaviour Change Model engrains the theory of behavioural science with psychology.
It demonstrates that the relationship between a person's core behaviours and his entire decision making process about embracing PA needs to be directly proportionate.
Psychological and behavioural theories act as indicators for evaluating whether it would be ideal for changing people's behaviour. Without this, the process of changing people's perceptions, opinions and behaviours become an extremely difficult one.
Receive feedback on language, structure and layout
Professional editors proofread and edit your paper by focusing on:
Academic style
Vague sentences
Grammar
Style consistency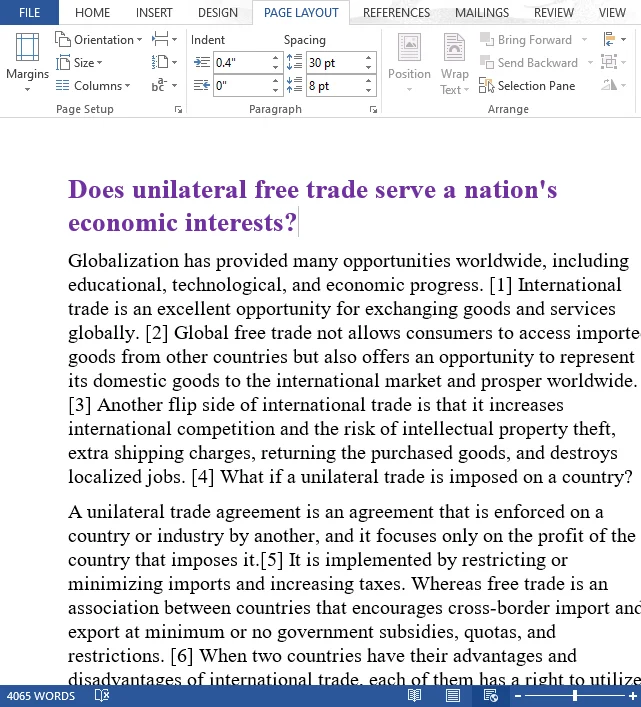 Continuum or discrete stage encompasses an individual behaviour on an attempt of adopting a behaviour that ought to enhance the incorporation of physical activities as a lifestyle.
Some numerous theories and models have been implemented to solve the puzzle to predict future behavioural change is concerned.
Although some are already discussed, it would be ideal to continue creating a broader scope. When a person makes a well-informed choice on something, there is always a driving factor behind it. In the meantime, the Health Belief
Model demonstrates that a person is susceptible to change if he believes that his current lifestyle- either sedentary or inactive is subject to future threats.
There is an instance where professional nurses have advocated for a need to conduct physical activities.
For instance, in the US, most of the adult women have been diagnosed with diabetes mellitus type 2- most of them are obese.
In the provided scenario, Health Belief Model will be ingrained basically to invoke positive influence while coming up with decisions; they will seek to promote and protect their own health.
The aspect of self-efficacy catalyses the need for taking stern actions which in the long surpass the barriers. This type of model can be efficient when implementing strategies aimed at reducing cases of heart failure.
With a lot of emphases, for individuals living an unhealthy or inactive lifestyle, heart-related complications such as heart failure become a constant threat. If at all, a person will diagnosed in the future.
Then the consequences will be hazardous. With that, conducting regular PA burns calories.
For instance, it was found that a 45minutes Zumba session was capable of burning about 365 amount of calories.
Additionally, Protection Motivation Theory comes in either threat or self-efficacy
appraisal. In other words, this theory would work best immediately after incorporation of patient education.
In the aftermath of this, people will be enlightened, forming a backbone for their own  motivation. It can be summarised into quotes such as, "conducting physical activity would improve my health," or, "If I fail to conduct regular PA, then my chances for getting diabetes type 2 are very high."
Moreover, the information accrued from either environmental or intrapersonal factors can result in either avoidance denial or a response adapted by coping. Both the Federal and State governments have invested heavily in healthcare basically to improve positive health outcomes.
To some extent, the society has been educated about the need to uphold PA. Education alone will be rendered pointless if a person fails to take action.
Consequently, the Theory of Planned Behaviour highlights the intention of taking action. The intentions that majorly take theform of the question "why" are mediated through the behavioural intention.
Normative beliefs, behavioural beliefs, attitude, control beliefs and subjective norms all encompass behavioural intention.
This theory is also likened to the Theory of Reasoned Action. They both emphasise on the fact that a person is an agent of his or her change. Notably, this creates the possibility of achieving either negative or positive results.
Regarding subjective norms, opinions from other people play an integral part in ascertaining whether to conduct regular PA. In awareness, there are several PA.
But the most important thing is for people to choose the desired PA. If this comes to pass, then there is a high possibility for the same positive results to be accrued in all dimensions.
There is a relationship between the psychological factor and socioeconomic status that has been documented (González et al., 2016). The link of SES with death rate may attenuate in later stages of life.
This issue may raise the number of diseases, such as disability, heart diseases, cancers, diabetes, and hypertension(Walker et al., 2015).
The low societal status may result in other problems such as risky health issues, exclusion from society, prolonged stress, lost control over sense, low self-esteem, and lack of nutrition in the body (Conger and Donnellan, 2007). The changes because of social culture have led to a change of behaviour within human beings.
There is always a gap between the three sections of society and their attitude towards life which is highly distinct.
SES affects not only physical health but also hampers mental health and impacts various aspects of the way of living, such as education, income, the standard of living, etc.
Some other factors also affect human behaviour, such as biological factors where the individual possesses the personality by birth, and his learning is based on his upbringing.
Then there are cultural factors which also has a great impact on behavioural changes in human beings. All of these factors explain how a person develops behavioural attitude following the societal norms.
The behavioural changes of a person also depend upon the situation; for instance, every person will not react the same way to a single situation. These factors cause a great impact on the physical activity of an individual.
Several models have been discussed centred towards topic to reach a specific conclusion. The theories, such as the Theory of Planned Behaviour, the Social Cognitive Theory, the Self-Efficacy theory, etc., have a severe impact on PA behaviour. Social cognitive theory has helped society or individuals get determined and influenced them to think for a better future.
While these models also show many ways to change health behaviour and subscribe in a healthy lifestyle The Physical Activity theory believes that their theories play an important role in creating awareness among the population to choose a better lifestyle which is healthy.
Another side of Physical Activity theory explains the advantages of incorporating complex theories into the upcoming awareness programme.
To take the initiative for joining such programmes, the primary step is changing the lifestyle from unhealthy to healthy and to provide self-satisfaction.
According to researchers, the Physical Activity model helps design an individual's schedule where he can save time for his health in terms of longer lifespan by practising physical activity regularly.
Until recently, nurses have delved into enhancing cultural competence, which has eliminated a likelihood of societal backlash. In this line, people with the best social networks seem to live a healthier lifespan characterised by shorter lifespan.
Economic and politics also form important societal pillars that can enhance a change in people's behaviour, adopting PA acting as the point of reference.
Diffusion Theory of Innovation reflects on the following aspects as rudiments for behavioural change; innovation, social system adoption, and effective communication channels. People who alienate social interactions are perceived to develop chronic diseases in the future.
The Diffusion of Innovation theory demonstrates that a person's needs and experience necessarily gauge behavioural change. Confirmation, implementation, decision making, persuasion, and knowledge all encompass the Diffusion Theory of Innovation.
Until today, America has been characterised by societal structure; Upper, middle, lower. This has led to increased cases of diseases occurrences in society.
Culture should reflect on reality, and such statistics are meant to incorporate the prospect of inequity. At the same, other social inequities such as gender discrimination have enhanced an increased possibility of diseases occurrence.
In the US, for example, sickle cells anaemia was referred to as a black man disease. In this case, the African Americans were alienated from the whites, promoting a likelihood of an occurrence of mental illness.
This is because a person's lower self-esteem is normally lowered and what follows becomes imminent; stress, anxiety, and depression.
Family therapy can be deemed as an effective mechanism for determining behavioural changes. Right from childhood, family therapy enhances an inquisition of features that are central to behavioural change.
Furthermore, for people who are grouped under the lower class, they have a negative perception of ever getting quality medical care.
To participate in the awareness program, the Physical Action theory stressed the prospect of a person saving money, which enhanced a longer lifespan. Psychological factors impose an influence on behavioural change; positive impacts.
According to Abraham Maslow's theory of hierarchy needs, a level of self-actualisation has to be enhanced. The concepts gel so well on the need to conduct the physical exercise as a suitable way of prioritising an individual need.
Other factors that are highlighted in this hierarchy include safety, political and social factors. A person's brain response to a particular chronic disease act as a parameter to evaluate the person's level of interaction with others; the determinant of societal structure.
With all these long-term negative consequences promoted by a certain disease, it can be seen that the relationship between morbidity or mortality rates and the psychological conditions is directly proportionate.
A comprehensive understanding of the psychological and social structure is key to gaining a broader behavioural change scope. Why do people act the way they do? Social Practice Theory asserts that behavioural change to PA draws focus from people's daily deeds.
Moreover, the theory focuses on the need to be in tandem with technological advancements. Technology has created a communication platform where health assessments can be conducted.
The Internet has created an ideal platform where online health-related programs reflecting on behavioural change can be enhanced. To sum up, the world we live in today has witnessed significant medical improvements.
References
Conger, R. D. and Donnellan, M. B. (2007) 'An Interactionist Perspective on the Socioeconomic Context of Human Development', Annual Review of Psychology, 58(1), pp. 175–199. DOI: 10.1146/annurev.psych.58.110405.085551.
González, M. G. et al. (2016) 'Testing satisfaction of basic psychological needs as a mediator of the relationship between socioeconomic status and physical and mental health', Journal of Health Psychology, 21(6), pp. 972–982. doi: 10.1177/1359105314543962.
Walker, R. J. et al. (2015) 'Understanding the influence of psychological and socioeconomic factors on diabetes self-care using structured equation modeling', Patient Education and Counseling, 98(1), pp. 34–40. doi: 10.1016/j.pec.2014.10.002.